When you finish your MSc Fashion & Luxury Marketing at TBS Education you will be able to pursue a career in some of the following professional positions:
Brand Manager
Business Development Executive
Buyer
Category Manager
Collection Planner
Customer Experience Manager
Customer Relationship Manager
Digital Marketing Manager or Strategist
E-commerce Manager
Key Account Manager
Market Manager
Market Research Manager
Marketing Communication Executive
Merchandiser
Product Development Manager
Sales Analyst
Trade Marketing Manager
Travel Retail Manager
Employability
The "Conférence des Grandes Ecoles" and TBS Education joined forces to carry out a big survey that concluded some interesting results on graduates from 2016, 2017, and 2018 academic years.
63% of our MSc Fashion & Luxury Marketing students find a job before graduation (internship period). 92% of the fashion marketing graduates find their first job within 4 months of graduating and this figure rises to 97% within 6 months of graduating.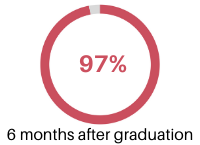 The second-highest percentage of our students (19%) obtained a Marketing & Communication position, which shows the importance of marketing management graduates for the job market and how many doors open to study fashion marketing.
On the other hand, 62% of our graduates obtained a position related to Business & Finance (21%), Trade & Export (17%), Consulting (14%) and Auditing (10%).
Finally, 19% of our graduates split into the following areas: Production & Logistics (8%), ICT & IS (4%), Human Resources (3%), Others (3%), and Big Data & Artificial Intelligence (1%).
Consulting is the most popular sector among our graduates (24%), followed by Industry (23%), Insurance (22%), Trade & Distribution (14%) and ICT & Multimedia (2%).15% of our graduates are currently working in different sectors (Others), where fashion and luxury businesses are included.
Almost 70% of our graduates are currently working at large companies (> 5000 to 250 employees), while the rest of them obtained a job at SMEs. Our fashion & luxury marketing graduates are mainly distributed among large companies as they usually have solid marketing departments.
More information