Upon successful completion of the Masters in Management, you will be able to pursue a career in some of the following professional fields:
Business Development
Digital Analysis
Market Research
Strategic Consulting
Strategic Management
Strategic Planning
Supply Chain Management
Employability
The figures below were obtained from the survey carried out jointly by the "Conférence des Grandes Ecoles" and TBS Education, on graduates from 2016, 2017, and 2018 academic years.
92% of graduates from TBS Masters in Management find their first job within 4 months of graduating. This is why we are among some of the best business schools in Europe, according to the Financial Times ranking. The employability rate rises to 97% within 6 months of finishing the course.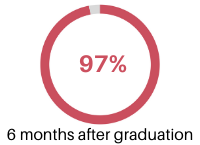 45% of our graduates obtained a job position in Business & Finance (21%), Consulting (14%), and Auditing (10%). This figure shows the importance of business management graduates in the employment market.
In addition, 44% of our graduates are currently working in positions related to Marketing & Communication (19%), Trade & Export (17%) and Production & Logistics (8%).
Finally, 11% of our graduates split into the following areas: ICT & IS (4%), Human Resources (3%), Others (3%), and Big Data & Artificial Intelligence (1%).
Consulting is the most demanded sector among our graduates (24%), followed by Industry (23%), Insurance (22%), Trade & Distribution (14%) and ICT & Multimedia (2%).
The Consulting sector gathers many of our business management graduates. Nevertheless, another important percentage of them are distributed among the rest of the sectors.
Almost 70% of graduates from the TBS Master in Management are currently working at large companies (> 5000 to 250 employees), while the rest of them obtained a job at SME. Our business management graduates are mainly distributed among the largest companies as they usually have solid internationalization strategies.
More information on the Master in Management