Upon the successful completion of the MSc Sustainable Financial Management with Data Analytics, you will be able to pursue a career in some of the following professional positions:
Sustainable Financial Director
Controller & Financial Analyst
Division Management Controller
ESG Financial Analyst
Business Controller
Sustainable Finance & Budget Officer
Internal Sustainability Auditor
Sustainable Corporate Controller
ESG Investment Analyst
Sustainable Accounting Manager
ESG Consultant
Employability
The "Conférence des Grandes Ecoles" and TBS Education joined forces to carry out a big survey that concluded some interesting results on graduates from 2018, 2019, and 2020 academic years.
63% of our MSc students find a job before graduation (internship period). 92% of them find their first job within 4 months of graduating and this figure rises to 97% within 6 months of graduating.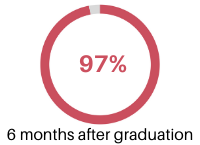 45% of our graduates obtained a job position in Business & Finance (21%), Consulting (14%), and Auditing (10%). This figure shows the importance of financial management graduates for the job market.
On the other hand, 44% of our graduates are currently working in positions related to Marketing & Communication (19%), Trade & Export (17%) and Production & Logistics (8%).
Finally, 11% of our graduates split into the following areas: ICT & IS (4%), Human Resources (3%), Others (3%), and Big Data & Artificial Intelligence (1%).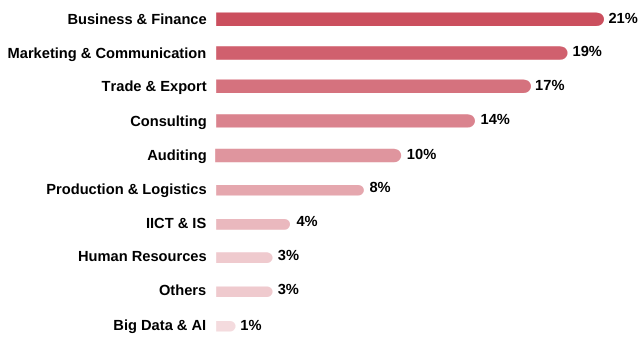 Consulting is the most popular sector among our graduates (24%), followed by Industry (23%), Insurance (22%), Trade & Distribution (14%) and ICT & Multimedia (2%).
The Consulting sector gathers many of our financial management graduates. However, another important percentage of them are distributed among the rest of the sectors as every company needs a financial department.

Almost 70% of our graduates are currently working at large companies (> 5000 to 250 employees), while the rest of them obtained a job at SME.
Our financial management graduates are mainly distributed among large companies as they usually have solid financial departments.

More information