The International Business program takes place over 3 terms. Thus, during the 1st term of the International Business program, you will learn the International Business Foundations and familiarize yourself with the latest trends in the international arena.
In the 2nd term, you will be able to understand different regional spotlights and how to innovate when doing international business. Moreover, you will work on a Company Consulting Project to put into practice what you have learned in class.
Finally, in the 3rd term, you will need to work on your Master Thesis, supported by the TBS faculty. Additionally, you will have the chance to undertake a 4-to-6 month internship in a renowned national or international company.
Throughout the whole course of the MSc International Business, you will benefit from our Soft Skills Certificate and the Company Visits Program.
---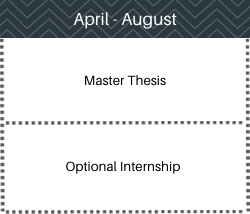 ---
*Non-contractual information. Courses are subject to change every academic year.
International Business Foundations
This academic block is divided into 5 modules, designed to provide you with sound fundamentals in international business.
Issues & Trends in International Business
This module aims to develop your appreciation of a range of contemporary issues impacting international operations and understand how business managers are responding strategically to them.
Non-Market Strategies for International Business
Competing Successfully in Emerging Markets
Managing Strategic Acquisitions & Alliances Internationally
International Strategy & Organization
During this module, you will learn how international and internationalizing firms define which products to offer around the world, how to compete in international markets, where to locate and how to coordinate their worldwide activities effectively.
Strategy in an International Context
Organizing for International Business
International strategy & Organization in Action
International Business Development
This module of the master's in international business will provide you with the skills needed to identify and assess appropriate sales markets and sourcing locations in a variety of organizational and environmental contexts.
International Business Development
Global Sourcing
International Logistics in Action
Managing Business Operations Globally
Through this module, you will obtain a comprehensive understanding of specialist business functions and how they are performed in different international contexts.
International Finance
CSR in a Global Context
International Accounting Issues
Research Methods & Dynamics in International Business I
In this module, you will be equipped with solid skills to design and conduct a research project with state-of-the-art methods and tools in International Business.
Research Methods
Issues & Trends in International Business Research
International Business in Action
This academic block of the MSc International Business Program is divided into 4 modules based around the understanding of different regional spotlights and the impact of innovation when doing business.
During this module, you will study the strategic choices that firms face when developing their HR policies and practices whilst developing appropriate knowledge and skills to undertake country studies that allow for comparative analysis of employment systems in different parts of the world.
International Human Resource Management
Negotiation & Conflict Management
Leadership in a Global Context
Innovating in International Business
In this module, you will recognize and analyze the growing role of entrepreneurship in a global economy. Moreover, you will understand the distinctive nature of entrepreneurial behavior across countries and at the organizational level, when firms overtake national borders.
International Entrepreneurship
Open Innovation in an International Context
International Entrepreneurship in Action
This module will introduce you to significant historical, political, economic, and demographic factors in specific regional contexts. Furthermore, you will learn to identify the specific opportunities and challenges that these factors pose to firms doing business there.
Business Dynamics in the Middle East
Business Dynamics in South East Asia
Business Dynamics in Africa
Business Dynamics in Europa
Business Dynamics in Latin America
Research Methods & Dynamics in International Business II
Soft Skills Certificate
Working towards this certificate will allow you to develop your management and leadership skills and improve the relational and behavioral abilities you need to make the most of your career in international business. This certificate, included in the MSc International Business program, is the result of a joint collaboration between 26 lecturers and professionals in leadership and management and the TBS Career Starter service.
Management & Leardership Skills
This subject will provide you with 9 key skills to manage teams and get the most out of your professional career:
Personal Skills
Self-awareness
Communicating effectively
Lifelong learning
Leadership & Management
Building an inspiring vision
Leading teams
Responsible decision-making
Relational Impact
Managing interpersonal relationships
Building trust and well-being at work
Influencing effectively
TBS Career Starter offers this subject to help you discover your talents and make the right decisions to move towards your career goals.
Over the course of lectures, workshops, personal tests, and coaching sessions, expert professionals will help you take the first step in your career, ask the right questions and choose the right internship or job for you.
Coaching: We will help you identify your skills, strengths, and areas for improvement. Personality tests and individual coaching are some of the tools we use to combine self-knowledge with your aspirations and career choices.
Personal Branding: You will take part in CV-building and e-portfolio workshops so you can highlight your experiences and skills to future employers.
Company Consulting Mission (SESAME)
Try out your skills as a consultant during a practical and transversal consultancy assignment for two weeks during your MSc International Business program!
A representative from a TBS partner company will send you a letter of engagement on a current strategic issue.
TBS lecturers will support students to work on a strategic plan to analyze the company's competition and positioning. They will then put forward suggestions on strategy and operations to respond to the challenges facing the company.
This hands-on task will let you put into action the skills and knowledge you have gained over your MSc program.
Aerospace Valley
Airbus
Cap Gemini
Comtesse du Barry
Continental Automotive
EY
Hilti
Mars Petfoods
Motorola
Thalès
Rockwell & Collins
Company Visits Program
Students will be invited to visit different international companies over the course, to see how they operate first-hand. Each visit will be directly related to modules on the MSc International Business course and student projects.
Companies visited during previous academic years include:
Master Thesis
The master's in International Business includes writing an individual dissertation on a current international business issue from an academic or professional perspective. This essay will be part of the body of work on the study, analysis, formalization, and abstraction of the subject. Your dissertation must include the concepts below:
Motivation: Justification of your chosen research topic
Resourcefulness: Showing the skills to plan and write a research project
Creativity & Common Sense: Demonstrating a structured and logical methodology
Cross-functionality: Problem-solving through a multidimensional approach
You must submit a master's thesis in order to graduate.
Optional Internship
You will have the opportunity to work as an intern at a national or international company over a period of 4 to 6 months. Although you do not need to complete an internship in order to graduate, TBS encourages you to do so to supplement your education with professional experience in international business, as it would help towards better professional integration.
Students who complete an internship will be awarded 10 extra ECTS credits for their new skills. While you study international business in Europe you will have the chance of discovering the exciting environment full of prestigious companies and getting to know international students from all over the world.
How do I find an internship?
TBS Career Starter will offer advice and support to help you develop your skills, as well as providing you with the professional tools to find the right internship for your career. You will receive individual coaching so that you make the most of your time as an intern.
It can be difficult to find an internship, and it requires persistence, autonomy, and initiative. You will get support at the Career Starter workshops, which will help you boost your employability on your internship search.
Over previous academic years, students from Master of Science in International Business have interned at the following companies and organizations, to name a few:
Qualification obtained
Once students have completed their studies, they will obtain the MSc International Business in-house degree*, awarded by TBS Education. The corresponding diploma will be awarded in October of the graduation year. 

*In-house degrees are endorsed by the prestige of the university that grants them.
More information