The Future of Jobs Report 2018
published on 05.11.18
The Fourth Industrial Revolution 2018-2022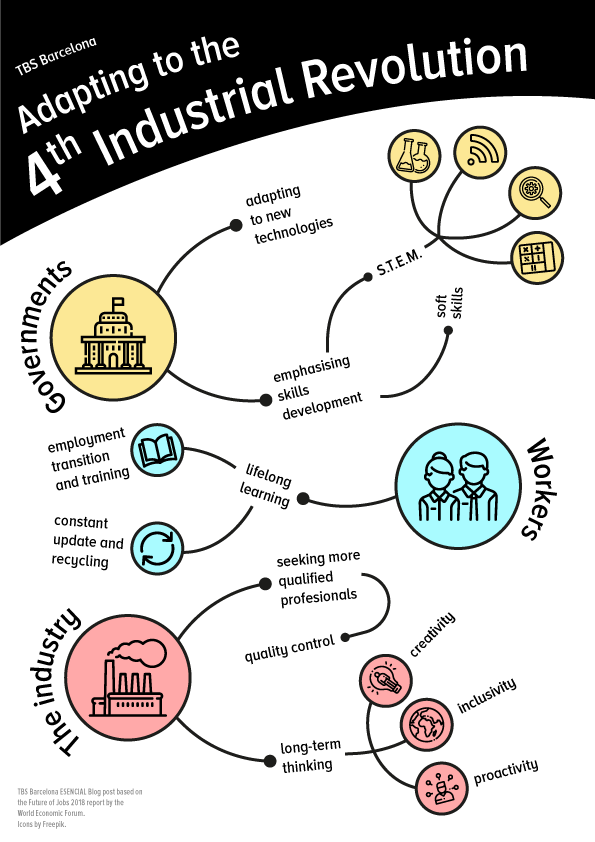 New edition of the World Economic Forum
(The Future of Jobs Report 2018)
The labour market is transforming into what has already been called the Fourth Industrial Revolution. Experts predict major changes in 2018-2022, a new era full of challenges and opportunities.
When we talk about opportunities, we refer to a greater performance of new technologies, including automation, better job quality, emerging jobs and an increase in employees. There is also, on the other hand, a larger tendency to create temporary and freelance jobs. The demand for skills accelerates at a fast pace.
Not only is it about technical skills, but we also refer to soft skills. Soft skills are the set of skills that allow a professional to better interact with others in the workplace, ranging from time management to leadership and teamwork.
Challenges for governments
For governments, there is an urgent need to address the impact of new technologies on labour markets. We must improve educational policies and direct them towards raising the levels of education and skills of individuals of all ages. In particular, the curriculums have to reinforce the STEM contents (science, technology, engineering and mathematics) and not forget an emphasis on the aforementioned soft skills.
Challenges for the industry
It is up to the industries to live up to the competition. More qualified roles are needed to ensure that the product reaches its maximum potential and is more competitive in the market. Industries will have to think long-term and creatively. A more inclusive and proactive approach will be needed.
Challenges for workers
Workers will have to take personal responsibility for lifelong learning and professional development. Many individuals will require periods of work transition and phases of training, updating knowledge and recycling.
A call to action
The new edition of the Report on the Future of Jobs of the World Economic Forum offers a call to action and hopes to be a useful tool to shape the future of work. The central objective of governments, industries and workers should be to ensure that tomorrow's jobs are fairly remunerated, treat them with respect and decency and provide a realistic scope for personal growth, development and fulfilment.
Author: Bestanist Nin, TBS Barcelona Library
Source: The Future of Jobs Report 2018
---
Tags: