Digital Marketing: 10 trends you should be aware of
published on 11.07.17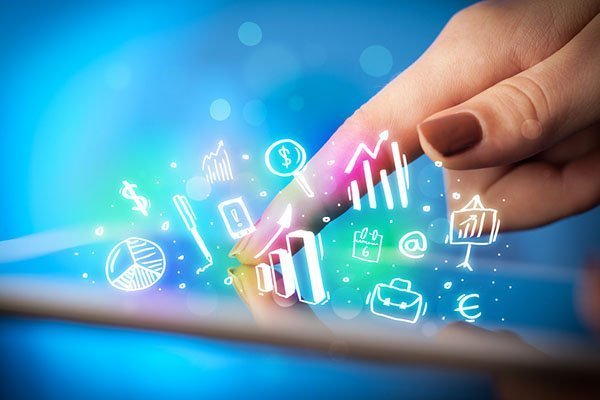 Digital marketing is still on the rise, finding more and more innovative ways to promote products, brands and businesses. The steps being made in artificial intelligence, the dominance of visual culture and the demand for immediate communication are some of the features that are shaping marketing trends online and on social media.
Below, we've laid out ten trends that are shaping the field in terms of marketing, looking at aspects such as new technology and online consumer behaviour.
These are the trends that we should be taking into account when drawing up our online and social media marketing plans and working out the best way to implement the plan we want to put in place.
1. Adaptable products and brands
One of the most important trends to take into account for your digital marketing strategy. Social media gives consumers a direct line for them to get across their needs and priorities by means of feedback, and they let their choices be known.
This has been ground-breaking for brands, who can adapt themselves to consumers' needs and priorities. This means that brands that mould their products to meets certain trends for a specific life-style will be the ones that will last longer.
2. Artificial Intelligence serving the new world
Various ventures and start-ups, as well as data analytics, have identified that artificial intelligence can provide optimum solutions for the way in which consumers navigate an ever more complex world.
From advanced analysis software that can predict the needs of the consumer as they arise, to software that can assess data and come up with results for a specific target market, these are just some of the uses and advantages artificial intelligence can offer for businesses and we can make use of them when drawing up our digital marketing plans.
3. The instantaneous is getting faster and faster
The world we live into today is made up of individuals who have grown up surrounded by networks and technology. This means that expectations about the speed of communications and instant entertainment are growing.
Generation Z consumers, that is, those born between 1994 and 2010, have taken to technology from the offset, which has caused a considerable addiction. Their lives revolve around social networks like Snapchat and Instagram, which provide them with instant gratification as a norm.
With this type of consumer in mind, only platforms that can provide this sensation of immediacy or can adapt to it will be able to find their place in the daily lives of this generation of consumers.
4. Curating as a way to overcome information overload
Today, human beings have access to a far greater amount of information than ever before, however we can't completely process it. That's why there is a need not just for a certain amount of selectivity when it comes to information, but also people who we trust as curators of this information, with the hope that the information will be applicable to our interests and life-styles.
Faced with this situation, we continue to search for specialists to filter recommendation, based on certain niche experiences which will mean that audience get their information in a way that feels personalised.
5. Influencers are a pillar of brand strategy
When we talk about people in charge of curating information for other people we can't avoid talking about the role that influencers play as a fundamental pillar in digital marketing strategies. Influencers are people who have a huge online presence and credibility on social media thanks to their knowledge of certain niche areas in the market.
Right now they play a crucial role in informing and guiding consumer decisions, which means that they should be taken into account and given a certain degree of control over promotions. We should also encourage them to be passionate spokespeople for brands, since they will get the product out to their millions of follows on social media.
6. People still resent intrusive forms of advertising
Pop-up banners and disruptive messages are being left by the wayside. Today's consumers do not want to have brands forced on them in an aggressive way on social media, whether on Facebook or through promotional tweets or stories on Instagram and Snapchat. Consumers' rejection of the blunt advertising presences means they will unfollow the brand's social network accounts.
Therefore, we need to work on the tone of the content in all of our promotions, following the paradigms for social media communications: quick, witty, irreverent and relevant.
7. The popularity of native advertising shows no signs of stopping
Native advertising is one of the oldest trends on the market. It's been used for years as a way to raise awareness of brands, business and products in a natural way.
However, in the digital landscape of today, it is becoming more necessary than ever, as has already been shown. Consumers reject conventional forms of advertising, which means we need to use this stealthily and effective format to get their attention. In digital marketing, these qualities are the perfect option when it comes to thinking about the marketing methods for promoting a brand online.
8. Consumers are still glued to their mobiles
Mobile devices have found their way into the world of photography and have replaced our alarm clocks, they give us instant access to social media, music and audiobooks, which has turned them into the means that consumers use to communicate and share information.
Smartphones and tablets have become our loyal companions 24/7, which means we need to consider this growing addiction when looking at our online presence, getting the most out of their potential, either through developing mobile apps and/or keeping up an optimum social media presence.
9. The power of images is growing
Audio-visual resources, from images and photos to videos, they have made huge steps over the last year and consumers – specifically Generation Z – have welcomed this format as a way of storing and sharing information.
That's why we need to think about our presence on those platforms that are focussed on visual culture, as well as those that contain add-in or updates that can be adapted to these formats in order to reach audiences that are focussed on visual content with direct and authentic actions.
10. The demand for "augmented reality" is increasing
The rage for Pokémon Go and its daily profits of over 10 million at its peak had two effects on the digital marketing community. Firstly, it showed that users are ready for Augmented Reality (AR) experiences and secondly, that there is a huge potential for profit in this sector.
With both of these aspects in mind, we can really start to make the most of this format when creating content such as games and adverts, using the steps that have already been made in augmented reality.
By Edith Gómez, external collaborator and editor of Gananci.com
---
Tags: digital marketing|Edith Gómez|marketing strategies|social networks