Paper or electronic books?
published on 20.04.17
It's obvious that both formats have their advantages. Electronic books can be read on lightweight mobile devices that don't take up much space. Moreover, their functionalities allow readers to make notes and add highlighting. Some can be downloaded from the internet free of charge, you can change the size of the font…
Paper books provide that classic feeling. They allow us to rest our eyes, as they don't require us to stare at (yet) another screen. You can also make as many notes as you like (as long as it's not a borrowed book!), collect them at home and arrange them in your bookcase as you please.
I am in agreement with this image from Lara Romera, who declares herself to be a book romantic. Paper ones, specifically: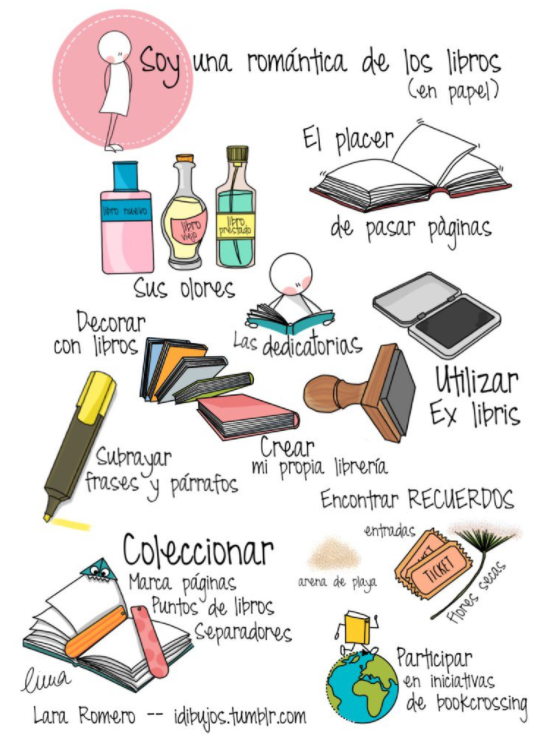 According to a report from CIS young people, university students and citizens of large towns are the most avid readers in Spain, but you may be horrified to learn that 39% of Spaniards did not read a single book in 2015.
But reading is so good for you! Did you know that a study from the University of Yale found that reading books can extend your life and increase your cognitive skills? In the TBS library there are 4,000 paper and ebooks available on the databases.
Novels, essays, poetry, manuals … whatever you like to read, don't miss the opportunity to enrich your life and perhaps extend it by a few days 😉
By the way, what are you going to do on Sunday 23rd? Remember that is Sant Jordi's Day and the streets of Barcelona are going to be full of book and rose stands. You can find all the information here.
Sources: El País / WEF / Lara Romero / Ajuntament de Barcelona
Chus García, TBS Barcelona library manager
---
Tags: books|Diada de Sant Jordi|eBooks|Lectura|libros|online|papel|sant jordi