Sant Jordi and the International Book Day
published on 19.04.18
Like every year, the 23rd of April, Sant Jordi's Day, is an special day in Catalonia. It is the day when thousands of people walk the streets to buy books and roses, and it is one of the most popular festivities: Barcelona is full of book and rose stands, not just in the city center but all around the city, and the bookshops put their new and old books on the streets. Roses also play an important role that day because they are bought and given as a love and friendship present, representing the ending of the Sant Jordi legend.
You can see the different activities organized that day all around the city in the Barcelona City Council website. Some of them are:
We recommend you to walk on La Rambla, for example (but not only) where you will find a big amount of rose and book stands, books not only published by popular publishers but also alternative ones.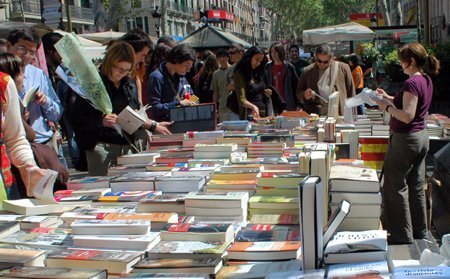 The Sant Jordi tradition dates from the start of the 20th century, when the booksellers belonging to the Gremi de Llibreters (Booksellers Guild) and the Cambra Oficial del Llibre (Official Chamber of Books) decided to commemorate 23 April because the writers William Shakespeare, Miguel de Cervantes and Garcilaso de la Vega all died on that date. UNESCO declared this a global tradition in 1996, since when it has been International Book and Copyright Day.
Enjoy the Diada!
Sources: Barcelona City Council
Chus García, Responsable de biblioteca TBS Barcelona
---
Tags: books|culture|Diada|Diada de Sant Jordi 2018|International Book Day|Legend|Roses|sant jordi