Upon the successful completion of the MSc Tourism & Hospitality Management, you will be able to pursue a career in many interesting professional positions.
What kind of jobs could you get with a tourism and hospitality degree?
Airlines, Cruises & Amusement Parks Manager
Customer Service Manager
Director of Operations
Director of Sales & Marketing
Entrepreneur
Event & Conference Manager
General Manager
Hotel Manager
Restaurant Manager
Revenue Manager
Spa & Sports Manager
Tour Operation & Travel Agencies Manager
Employability
The "Conférence des Grandes Ecoles" and TBS Education joined forces to carry out a big survey that concluded some interesting results on graduates from 2016, 2017, and 2018 academic years.
63% of our MSc students find a job before graduation (internship period). 92% of them find their first job within 4 months of graduating and this figure rises to 97% within 6 months of graduating.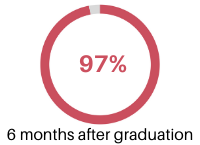 The highest percentage of our students (21%) obtained a Business & Finance position, which shows the importance of the master's in tourism management's students for the job market.
On the other hand, 60% of our graduates obtained a position related to Marketing & Communication (19%), Trade & Export (17%), Consulting (14%) and Auditing (10%).
Finally, 19% of our graduates split into the following areas: Production & Logistics (8%), ICT & IS (4%), Human Resources (3%), Others (3%), and Big Data & Artificial Intelligence (1%).
Consulting is the most popular sector among our graduates (24%), followed by Industry (23%), Insurance (22%), Trade & Distribution (14%) and ICT & Multimedia (2%).
15% of our graduates are currently working in different sectors (Others), where tourism and hospitality businesses are included.
Almost 70% of our graduates are currently working at large companies (> 5000 to 250 employees), while the rest of them obtained a job at SMEs. Our tourism & hospitality management graduates are distributed among all the company sizes.
More information